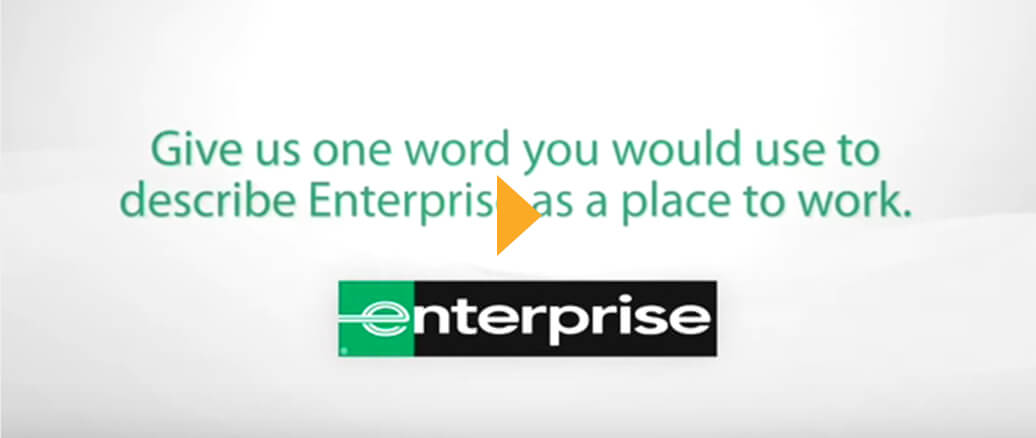 As a Management Trainee, you are empowered to make business decisions that greatly affect your career as well as the bottom line. We will teach you how to deliver superior customer service, and how to effectively communicate with customers, vendors and co-workers. You'll learn proper sales techniques and problem-solving skills. You'll gain responsibility for developing new business and maintaining current relationships. You'll be responsible for understanding cost control, reading your branch's P&L statement and understanding what it takes to run a profitable business. In your development to become a successful manager at Enterprise, you'll learn how to mentor, train, manage and promote a staff of your own.
Full Time
Level: Entry/Mild
Travel: No
Glass Door 3.2 stars
There are a lot of opportunities at Enterprise, if you want to move up, you have to work for it.
- Isabelle C., Management Trainee
---
I was lucky to have a wonderful management team as my guidance, helping me set goals and achieve career goals.
- Hannah L., Management Trainee
Trending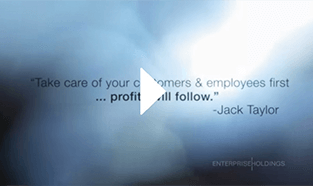 Our Culture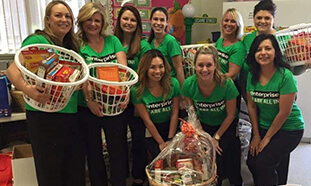 Check out what's happening in your local Enterprise group.
Learn More
Benefits
Healthcare

We offer medical, dental and vision, and many other great health and wellness benefits.

Paid Time Off

Take some time to enjoy life. You'll earn paid days off, depending on your tenure and status.

Retirement Plans

We want to help you build a future beyond your career. That's why we offer employer-matching 401(k) retirement savings plans.

Employee Discount

As an Enterprise employee, you'll enjoy discounts on vehicle rentals and purchases.

Military Heritage

From the beginning, military service members have played a tremendous role in our history and culture. It's in our DNA.

Promote from within Culture

We promote based on performance. Not seniority.
Description
Enterprise Truck Rental, a division of Enterprise Rent-A-Car has an opening for an Account Specialist. The Account Specialist is responsible for influencing the buying decision, while exceeding the customer's expectations for service, knowledge and professionalism. The Account Specialist will be knowledgeable of our complete menu of services including vehicle acquisition, maintenance management, insurance management, licensing and cycling of our trucks.
The Account Specialist gains hands-on experience and knowledge to learn the business, to learn how to ultimately manage the branch and to support the entire business. The Account Specialist performs duties in all aspects of a branch to become familiar with line and staff functions, operations, management viewpoints and company policies and practices that affect each aspect of the business. The objective of the Account Specialist assignment is to educate Account Specialist as to all aspects of the business so that he or she can ultimately run the branch unit.
The objective of this position is a well rounded education and preparation for the Account Specialist to ultimately run the branch unit.
This role would be located at our Truck location in Ocala- near 34471.
This position offers targeted annual compensation of $41,000.
Responsibilities
As aAccount Specialist, you'll start learning our business from day one while based out of one of our neighborhood truckbranches. You will be entrusted to serve as both the face of Enterprise to customers and partners and the behind-the-scenes operational expert. In our structured program, you will master the knowledge and skills you need to eventually run your own branch, cultivate new business and develop your team.
In our hands-on learning environment, you will receive the guidance, mentoring, and support you need to be successful. You will also get out into the community and establish the relationships essential to building your own business.
We'll teach you how to excel at customer service, sales and marketing, finance, and operations. And you'll learn what it means to always put our customers first. Ours is a culture of friendly competition, which is critical to growing our business — and your success.
Assist in Branch sales and marketing efforts to increase business and income 
Prospect and target accounts to develop new business relationships
Understand, communicate and sell optional protection products, rental terms and conditions, vehicle features and benefits as well as fuel options and additional equipment
Create a strategy to convince prospects of their need to learn about our services
Conduct various meetings with our clients including initial and follow up fact-finding presentations, closing and transition meetings.
Build the initial relationship with decision makers and secure referrals
Create custom business solutions to facilitate closing the sale
Relationship management with clients after the transition on an as needed basis
Provide a high level of customer service by assisting customers and assessing their rental needs in person and/or by phone
Effectively market the company while picking up and/or dropping off customers in a safe and courteous manner and assisting customers as needed
Conduct follow-up with various customers and businesses, including insurance adjusters or agents, dealerships, body shops, road-side assistance, and mobile vendors.
Equal Opportunity Employer/Disability/Veterans
Qualifications
Must have a Bachelor's degree
Must have a valid drivers license with no more than 2 moving violations in the last 3 years.
Must be available to work an average of 49 hours per week.
No drug or alcohol related conviction on your record in the past 5 years (i.e., DUI, DWI).
Must be at least 21 years old
Minimum of one year prior successful sales experience. Prior experience in trucking, logistics, and/or business to business sales is a plus but not required

Sales experience may include but is not limited to: work in retail, commission sales or a serving/restaurant environment; participation or leadership in athletic/team activities; leadership experience in the military or community, social, academic organizations.

Must be authorized to work in the United States and not require work authorization sponsorship by our company for this position now or in the future
DOT Requirements:
We are subject to certain Department of Transportation Regulations
All applicants must be at least 21 years of age and be qualified to drive under D.O.T. regulations. Applicants will be required to submit an appropriate medical examiner's certificate, or submit to and successfully complete a D.O.T. medical examination.